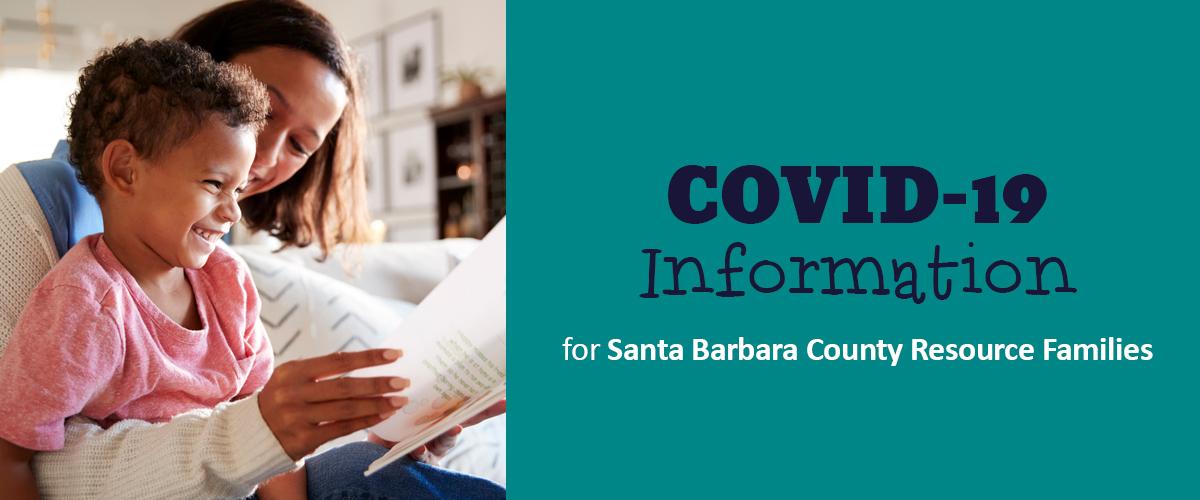 COVID-19 Information for Santa Barbara County Resource Families
Dear Santa Barbara County Resource Families,
We hope you are all staying healthy and informed with accurate information regarding the Coronavirus (COVID-19). The rapidly changing circumstances surrounding COVID-19 have affected the education, work, and social schedules of all Santa Barbara County residents. As always, Santa Barbara County Department of Social Services is committed to the safety and well-being of children and families along with our community partners and staff.
The Department of Social Services is continuing essential operations during regularly scheduled business hours and after hours on our child abuse hotline. Our staff are taking all precautions possible in our work with children and families. We are assessing changing circumstances in our county and state on a daily basis.
We strongly encourage caregivers to follow medical advice about safety practices such as handwashing, sanitizing frequently touched surfaces, and social distancing as much as possible. If you have been diagnosed with COVID-19, been advised by a medical professional to quarantine, or experienced other significant disruption due to COVID-19, please contact your social worker immediately and also call your Regional CWS office for assistance and direction:
Santa Barbara: (805) 681-4551
Lompoc: (805) 737-6065
Santa Maria: (805) 346-7127
If you need to report an emergency related to a child in your care after normal business hours, please call our hotline at 1-800-367-0166.
To support the Governor's stay at home order, we have cancelled in-person RFA orientations, trainings, and CPR classes until further notice. We are offering accommodations for RFA pre-service training on a priority basis. Please contact your RFA Social Worker or email the Our County. Our Kids. Team, info@ourcountyourkids.org, to discuss your orientation and training needs.
If you have childcare needs related to school closures, please inform your CWS social worker. Child Welfare Services is currently developing additional resources to meet the increased demand for childcare.
At this time, due to the stay at home order, our Juvenile Court has suspended in person visitation between children in out of home care and their birth families. Our team at CWS is working to continue to support connections between children and birth families through "virtual" visits using apps such as FaceTime, Skype, and other available technology. In these stressful times, it is even more important for children to share family time and maintain connections with their birth families. The disruption from school closure, not seeing their friends or having a familiar activity schedule is more difficult for traumatized children. Any effort to maintain a regular routine, including contact with birth families, will help children build their resilience. Our Social Workers and Case Aides will be contacting all resource families to assess the best means to maintain connections. Click here for other ideas and links on how to reassure children during this time.
The well-being of caregivers and children is very important to us. Remember, children often feel what you feel. Answering their questions and providing honest and age-appropriate information, is often best.  Click here for resources to help you talk about the coronavirus with children
For general questions and support, please reach out to the resources below:
Santa Barbara County Public Health Public Information Portal provides updates about the public health emergency and links to prevention and preparedness information: https://publichealthsbc.org/.
CenCal Health provides answers to questions that will help you understand and deal with this outbreak. Read below for common questions and helpful: resourceshttps: https://www.cencalhealth.org/coronavirus/?fbclid=IwAR1UqS5goTL9VIGPyeBr0JdupQUeS1v16zbOByRB9JEseNBzOKv5CEKKLDY
2-1-1 Santa Barbara County links people to resources and information: dial 2-1-1 or (800) 400-1572, or go to https://211santabarbaracounty.org//. For information specific to COVID-19, dial 211 or (833) 688-5551, text your zip code to 898-211, or go to https://211santabarbaracounty.org/covid-19/.
California Employment Development Department answers questions about unemployment, disability, and paid family medical leave eligibility: edd.ca.gov/about_edd/coronavirus-2019/faqs.htm.
Our County. Our Kids. Mentor and Village Programs can help with questions about quality caregiving and the child welfare system: If you would like contact with your Village home or the RFA mentor, please call the OC.OK. information line (866) 899-2649 or email info@ourcountyourkids.org.
The Child Abuse Hotline continues to receive calls regarding suspected child abuse and neglect: (800) 367-0166.
If you are applying to be a resource family, please contact the Our County. Our Kids. Team for general guidance: 866-899-2649 or info@ourcountyourkids.org.
If you are an approved resource family, please contact your RFA Social Worker and/or the Child's Social Worker for general guidance. You can also contact management staff:

Marianne Reagan, Operations Manager: (805) 681-4529
Noel Lossing, Program Manager, Resource Family Approval: (805) 737-6019
Leticia Alvarez, Supervisor, Resource Family Approval Program: (805) 681-4542
Gustavo Prado, Coordinator, Our County. Our Kids. Program: 805.450.5590 or info@ourcountyourkids.org.
Thank you for your readiness to meet the needs of Our Kids. in need of care. We appreciate you as caregivers and teammates, and hope that you stay safe and well.
The Our County. Our Kids. Team.