From Foster Care to Football: A Winner's Story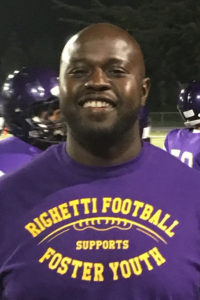 Entering high school may be one of the most exciting and intimidating experiences in any young teen's life. But for Justin Riggs, the devastating and sudden loss of his mother from diabetes complications prompting his transition into the foster care system, was the game-changer he didn't see coming.
Through Santa Barbara County Department of Social Services, 14-year-old Justin was teamed up with his new resource parents, B and Linda Williams, who continued to provide him the solid foundation his mother once had. It was through their loving and nurturing approach that helped Justin have a smoother transition into his new home and environment.
Although Justin lived in Lompoc with his resource parents, the Williams encouraged him to attend Bishop Garcia Diego High School in Santa Barbara for the atmosphere and smaller setting. Justin acclimated seamlessly and became involved in school activities, and was introduced to his new passion, football.
A natural athlete, Justin excelled in the sport, even helping his team play in the CIF-Southern Section Playoffs. Justin credits his love of the game for his success in life.
Now 29 years old, Justin reflects on the life skills acquired by playing on the team. "Football taught me about dedication, team work, camaraderie, work ethic, and fulfilling your duties, all of which I've learned to apply to my everyday life."
Justin's drive on the field was also demonstrated in the classroom. As one of the 3% of foster youth who graduates college, Justin earned a bachelor's degree in economics from Grambling State University in Louisiana.
Justin moved back home to Lompoc in 2012 to be near his family again. Today, Justin has a successful career in the construction industry and is devoted to his new passion, his one-year-old son Miles.
Despite the challenges Justin has faced, the new father has a positive outlook on life and is optimistic about the future.
"When I entered the foster care system, I had to learn how to deal with adversity and believe in myself that I could persevere through any obstacles life threw at me," said Justin. "Having the support and guidance of my loving resource parents helped me push through the hard times and allowed me to focus on the bigger picture of life and have the drive to succeed."
On September 8, Justin partnered with Our County, Our Kids to share his message from a place that he knew all too well, the football field. At the Righetti High School vs. Dos Pueblos High School football game, Justin took the field during half time and spoke from the heart to educate the hundreds of families in the stands on the continuing need for loving resource families for the 400 youth in care in Santa Barbara County.
Justin hopes his message will help dispel some of the stigmas around caring for youth, especially teens.
"There's a misconception about older foster youth that they're set in their ways, and there is no way to help and change them," Justin explains.  "At age 14 we make mistakes, but we need the assurance that someone is still going to be there and not abandon you. Every child deserves to have an anchor in their life and to know that there will always be someone in their corner and cheering for them from the stands."